About The Journal ISSN: 2249-622X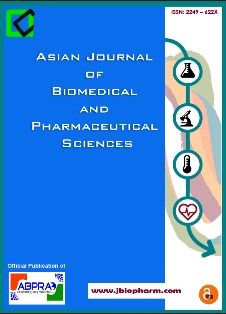 Asian Journal of Biomedical and Pharmaceutical Sciences
ISSN: 2249 – 622X
Google Scholar H-Index: 16
Journal Impact Factor: 0.96 | 5 Years Impact Factor: 2.64
Current Issue: Volume 12 Issue 91
Editor-in-Chief:
Dr. Francisco Lopez-Munoz,
International Doctoral School,
Universidad Camilo Jose Cela,
Madrid, Spain.
Next issue: Volume 12 Issue 92
The journal publishes scholarly articles on the systems, policies, and practices that promote research and innovations in Biomedical and Pharmaceutical Sciences. This includes research in following fields
Biomedical Sciences:
Anatomy, Physiology, Biochemistry, Molecular Biology, Cell biology, Genetics, Hematology, Pathology, Immunology, Microbiology, Virology, Parasitology, Surgery, Dental Sciences, Sports Physiology, Histopathology, Toxicology and all major disciplines of Biomedical Sciences.
Pharmaceutical Sciences:
Pharmaceutics, Biopharmaceutics, Pharmacokinetics, Pharmaceutical/Medicinal Chemistry, Computational Chemistry and Molecular Drug Design, Pharmacognosy and Phytochemistry, Pharmacology and Toxicology, Pharmaceutical and Biomedical Analysis, Clinical Research, Pharmacy Practice, Clinical and Hospital Pharmacy, Cell Biology, Genomics and Proteomics, Pharmacogenomics, Bioinformatics and Biotechnology and all major disciplines of Pharmaceutical Sciences.
Articles are published as they are accepted and are freely available on the journal's website to facilitate rapid and broad dissemination of research findings to a global audience.
Top Reasons for publication with us
Quick Quality Review: The journal has strong international team of editors and reviewers.
Rapid Decision and Publication: We guarantee a review of your manuscript by a panel of qualified experts within 21 days of submission. Authors that need a faster decision can request Fast Track review and get a response in 5-7 business days.
Low Publication Fees: Comparable journals charge a huge sum for each accepted manuscript. AJBPS only charges the fees necessary to recoup costs associated with running the journal.
Other features: DOI Assigned, Plagiarism Check by Ithenicate, Implemented the Rapid Open Review System (ORS).
You may submit manuscripts online through following link https://www.scholarscentral.org/submissions/asian-biomedical-pharmaceutical-sciences.html or as an email attachment to the following Mail Id: [email protected]
Just Published Articles